Ritual's Ethos of Traceability Extends to Sustainability
Supplement brand Ritual's emphasis on product transparency and scientific rigor aligns well with its sustainability efforts.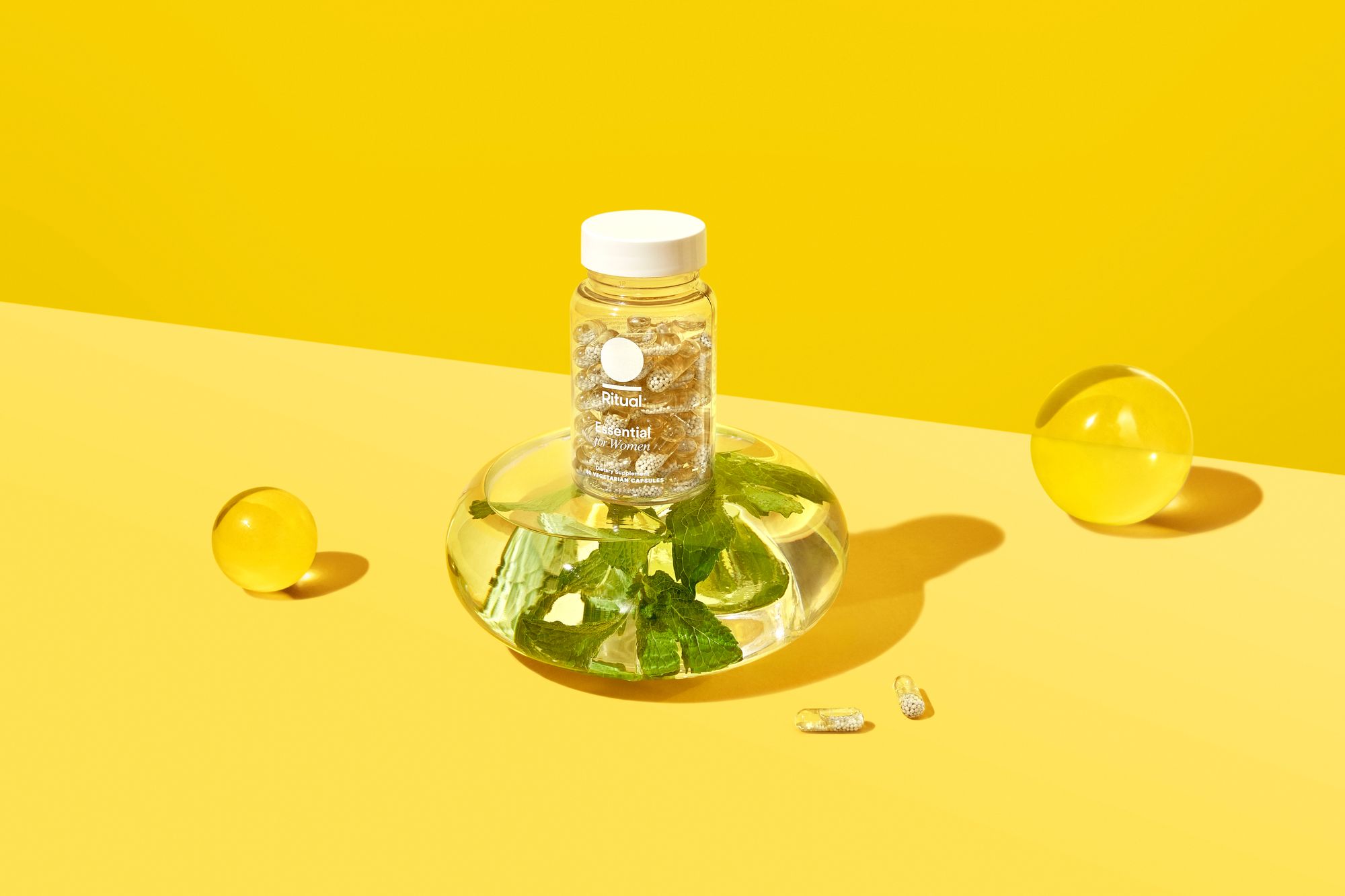 Building a sustainable brand can involve building a sustainability department, but that doesn't mean impact teams should work in silos and advocate for separate values. Instead, creating more sustainable offerings often requires integrating sustainability teams into a company's overall operations and principles.

At Ritual, a supplements startup, the brand applies the same core values across areas like product development, sales/marketing, and sustainability. In particular, Ritual focuses on traceability throughout its business and prioritizes science.
About a year ago, Ritual brought on Lindsay Dahl, an environmental and social impact expert/advocate with an impressive resume, to serve as its chief impact officer.

"One of the things that our CEO had the vision of when hiring this role and creating a formal department within Ritual is that she wanted to apply the same kind of scientific rigor that the brand has around the science behind the supplements to what we're creating around our sustainability programming," says Dahl.
Traceable and Transparent
Ritual's trademarked brand promise of Made Traceable involves providing detailed information on what goes into its products.

In 2022, the brand hit its goal of publishing on its website the names of "our 51 active and other ingredient suppliers and final places of manufacturing on our website for all to see," the brand says in its 2022 impact report. For 2023, the goal is to dive deeper into traceability by looking at ingredient origins.

Under this umbrella of traceability, Ritual also promotes traceable science, such as disclosing the results of a clinical study it conducted for its women's multivitamin products.
"We want to show people the so-called receipts for both traceable science and sourcing," says Dahl.
Doing so can help build consumer trust while also extending directly into sustainability and social impact work.
The Made Traceable brand promise "enables us to actively address environmental justice issues common with sourcing ingredients and packaging, as well as their impact on surrounding communities," Ritual notes in its impact report.

But this isn't theoretical work. Ritual also applies transparency to setting specific sustainability targets and sharing progress toward those goals along the way.

"We believe that traceability is the biggest unlock to helping solve some of the most pressing sustainability issues," says Dahl.
One of Ritual's published goals is to have 100% sustainable packaging by 2025, which the company is 74% of the way toward achieving.

"And we very clearly defined what we define as sustainable packaging, because that's kind of ripe for greenwashing. So, packaging that is either recycled, recyclable or refillable hits that criteria," explains Dahl.
Analyzing Impact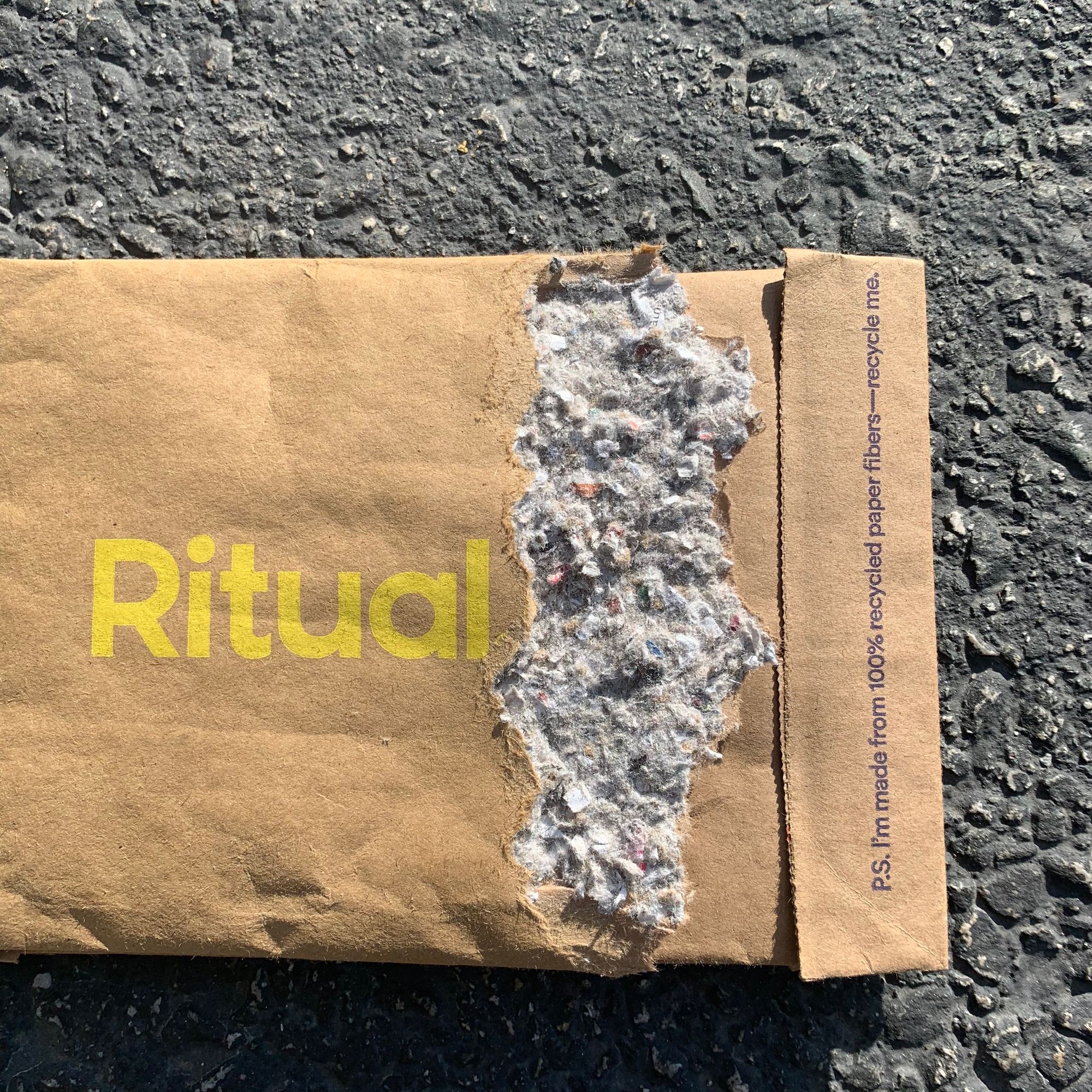 While Ritual says it uses circular economy principles as defined by the Ellen MacArthur Foundation, the company notes that initial testing of refillable pouches affected product quality. This exemplifies how the switch to more sustainable packaging can't always happen overnight and how sustainability decisions can be nuanced.

A similar scenario plays out when it comes to glass vs. plastic bottles.

Ritual has completed full life cycle assessments (LCAs) for all packaging and products, as well as spend-based Scope 1-3 carbon emissions calculations. This work has helped Ritual better connect with consumers while cutting carbon emissions from packaging.

"Oftentimes our customers are saying we don't want plastic in our homes, can you make this in glass," says Dahl. "Then we showcase how we did life cycle assessments for the packaging, and the glass is 59% more carbon intensive than using 100% post-consumer recycled plastic. And they're both widely curbside recyclable."

"By doing that storytelling, we can help educate consumers. We're not here to defend plastic, but we're here to defend the choice of using recycled plastic vs. virgin plastic or glass," she adds. "Talking about how traceability connects with climate is not new for sustainability professionals, but it's new for the consumer. So we're kind of uniquely positioned to tell that story."

Ritual's carbon accounting, including product-level LCAs, enabled the company to set a net-zero emissions goal for 2030. The company reports that it's 15% of the way toward reaching this goal. Here too, Ritual is following the science by submitting its goal to the renowned Science Based Targets initiative (SBTi).

"We follow the best science for our formula efficacy, so we're going to do the same on climate," says Dahl.

The specific ways in which Ritual will decarbonize remain largely to be seen, as the company only recently completed its carbon footprint accounting and is now working on the analysis.

Next year's impact report will likely have more detail, says Dahl, but some of the ways to reduce carbon emissions might include "either changing ingredients, working with our manufacturing partners on the types of energy that they're using at their facilities, thinking about purchasing products that are closer to home and how we're delivering those products to customers," etc.

And having the LCAs can help guide these decisions while validating ones Ritual's already made.
For example, Ritual sells a plant-based protein powder made from regeneratively farmed peas grown in the U.S.
"That product has a very low carbon footprint—even lower than we (and the LCA practitioners) had expected," says Dahl. "We always knew that sourcing regenerative peas grown domestically was the right call, but to actually see the benefit when it comes to the climate impacts, it was nice to see the science reflect that gut instinct."
Making Financial Sense of Sustainability
In addition to making a more positive environmental and societal impact, Ritual's sustainability work also helps the brand reduce risk and create a stronger business.
Looking at sustainability and social impact as a cost center is "an outdated way of thinking of this work," says Dahl. "I think that the companies that are winning in the marketplace right now don't think of impact or sustainability or safety as a cost, but rather as a value-driver and an opportunity to de-risk a business."  

Dahl notes that she has the advantage of other leaders within the company, like the CFO, already being bought into the benefits of sustainability.

For others who might not be at this stage yet, though, it's important to connect the dots between sustainability and finance.

Getting called out for using ingredients that contribute to deforestation, for example, creates a potential PR risk, she notes, which can carry associated costs.

"It's been interesting to see how the field of finance has evolved in a lot of ways to understand that doing this work—meaning sustainability, safety, traceability, human rights work—is all not only the right thing to do, it's the right thing to help ensure the financial success and future success of the company," she says.
Disclosure: Our parent company, JournoContent LLC, has clients involved in sustainability-related areas, among others. The owner of Carbon Neutral Copy, Jacob (Jake) Safane, has investments in sustainability-related companies, among others.
As such, conflicts of interest related to these and other investments/business relationships, even if unintended, may exist at times. Please email info@carbonneutralcopy.com if you'd like further clarification on any issues.