3 Sustainability Takeaways From Expo West
At Expo West, leaders from some of the most sustainable brands shared lessons on communication and collaboration.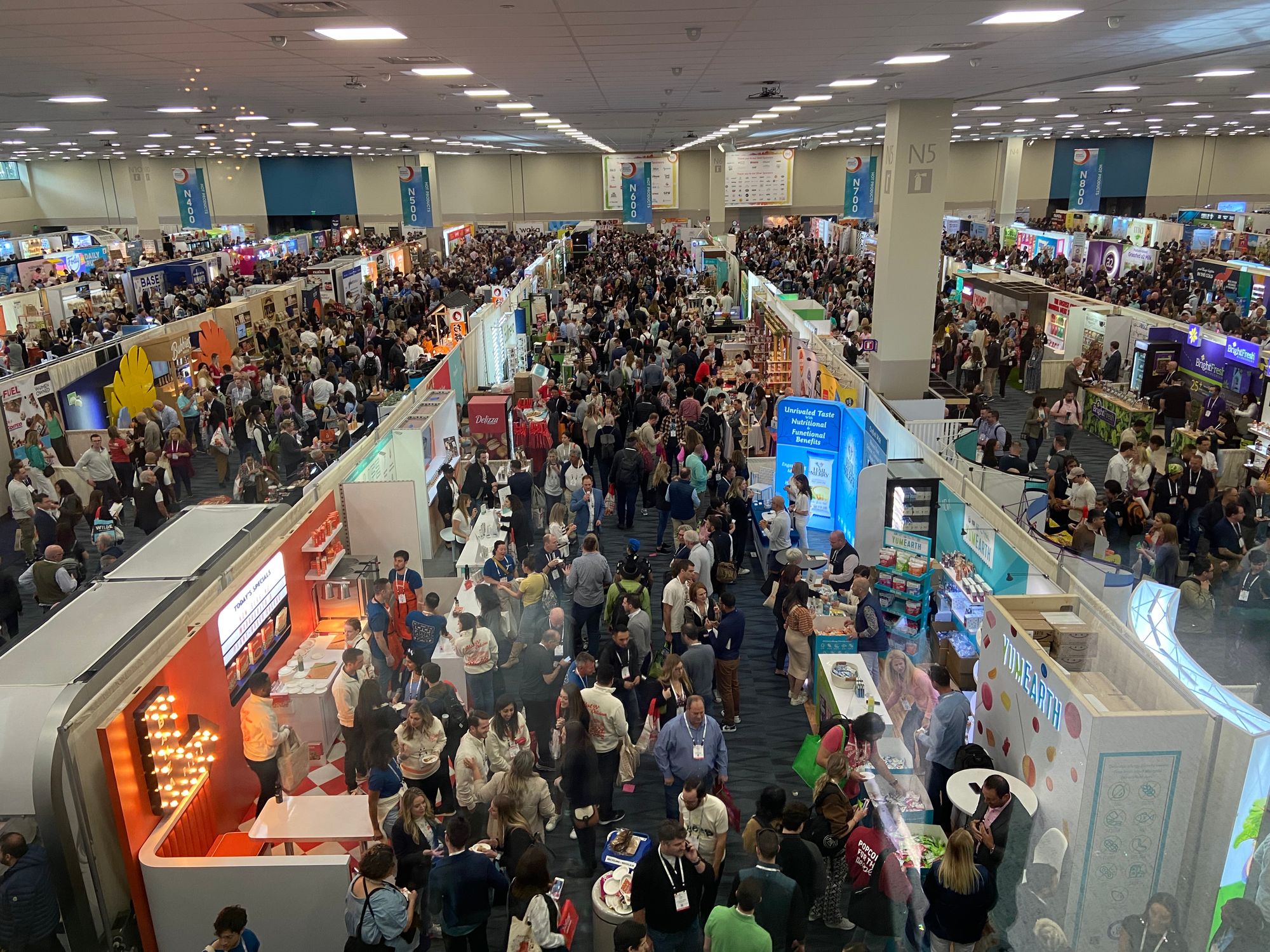 Across the street from Disneyland in Anaheim, CA, tens of thousands of people gathered in early March at a temporary theme park of sorts for food and other household products at Natural Products Expo West.

Not only was the trade show teeming with samples of organic foods, healthy beverages, sustainable natural products, and more, from both established and emerging brands, but the event also included a series of speakers during what was dubbed Climate Day.
During these panels and keynotes, leaders from companies ranging from retailers like Whole Foods and Ben & Jerry's to smaller ones like some sustainability consultants discussed how natural products brands, and businesses overall, are thinking about and working to improve the environment and society overall.

Some of the top sustainability-related takeaways include:
1) Celebrate Small Wins Too
For a big issue like climate change, there can be a tendency to think that only big actions are worthwhile. But change doesn't happen overnight. If brands are working to improve sustainability, it's okay to celebrate small wins along the way.

When it comes to climate-friendly practices like regenerative farming, it's important to start anywhere. It's about progress, not necessarily perfection, said Kristy Lewis, founder of snack brand Quinn. "Any little thing that is better, is better."
Part of what's holding some brands back from making changes is a lack of existing solutions. If certain sustainable ingredients or processes aren't widely available or practiced yet, then it can take time to get there.

Be patient with and support brands making investments in sustainable, regenerative ingredients, said Julie Kunen, director of sustainability at Oatly North America. "Companies like ours are having to build a supply that has yet to exist."
Taking a more open-minded approach and celebrating small wins can also help avoid issues like greenwashing, where companies make claims to seem more eco-friendly than they really are.

"The only way greenwashing stops is when vulnerability and humility are embraced," said Heather Terry, founder and CEO of GoodSam Foods. Our culture makes it negative for brands to not be all the way at the most advanced stage of sustainability, she added. "Everyone is trying to run so fast at that. If it's not true, then it destroys everyone. Make it be okay to be at different stages."
2) Combine Data With Storytelling
As brands start to implement more sustainable practices, they might explore areas like carbon labeling, where they display the carbon footprint of a product on packaging.

While this type of hard data is important, it can be enriched with complementary storytelling.

Research from New Hope Network NEXT Data & Insights shared at the event showed that sustainability isn't a top driver of trying new brands for the first time (price leads the way), but it can still be a contributor. Yet sustainability can help brands win shelf space and build customer loyalty, so it can make a difference to long-term success.
NielsenIQ data presented during Climate Day also showed a clear correlation between ESG claims and repeat purchasing. The more a brand's portfolio is centered around ESG-friendly products, the more customers tend to keep coming back.
So, brands can use packaging to drive curiosity around sustainability, said Eric Pierce, VP, business insights at New Hope Network. He added that brands can then go deep into other media that enable you to "tell clear and authentic stories of how you engage in sustainability."

And that arguably should include stories about more than just carbon emissions.

"Carbon labeling alone, in the absence of contextualization, doesn't move the needle. It has to be a part of a richer brand narrative," said Julia Collins, founder of Moonshot Snacks. Tying in areas like nutrient density and soil health "can create more romance and consumer pull."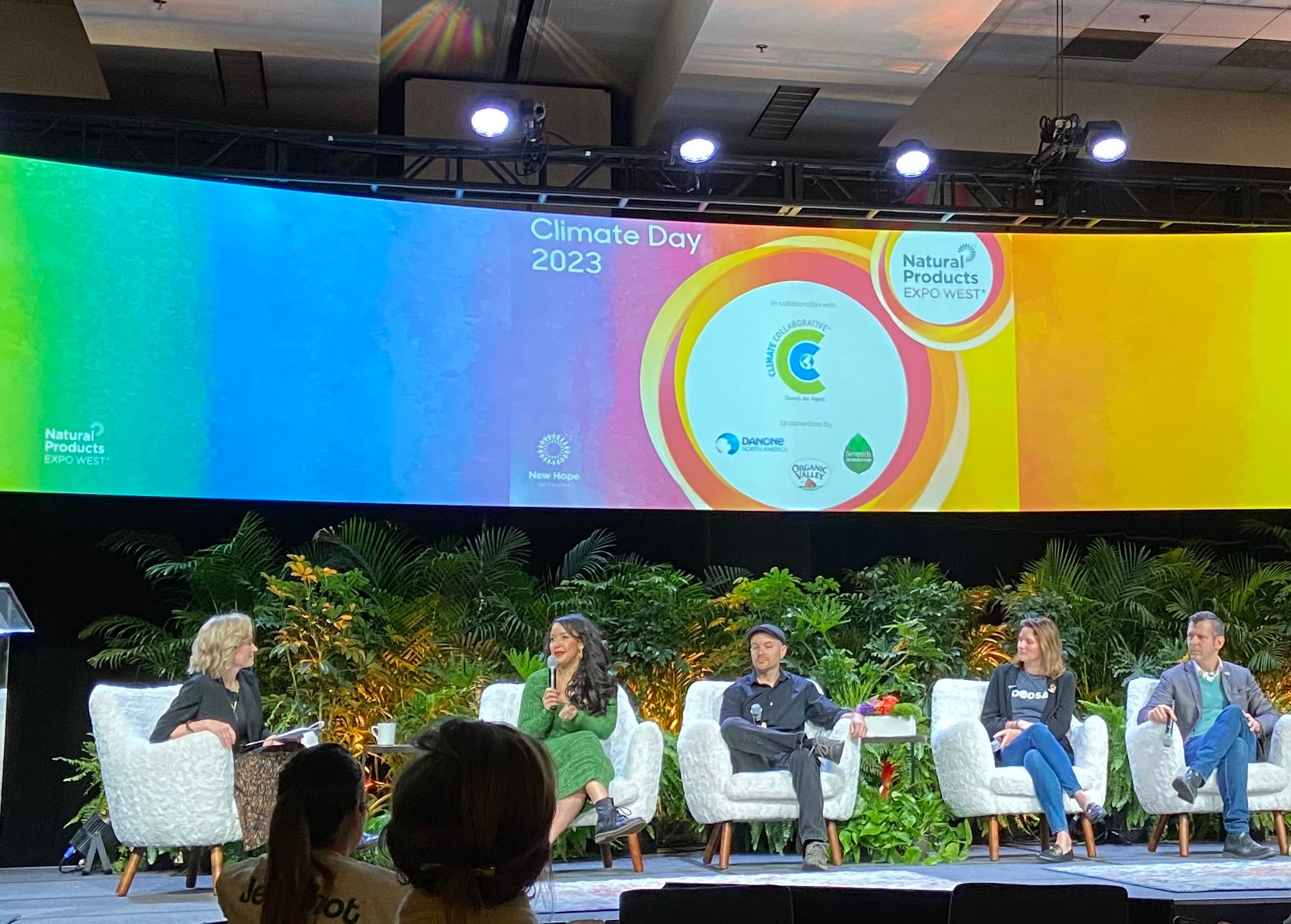 Being more positive can also help.
When it comes to issues like the climate crisis and environmental justice, "too much fear creates apathy," said Leah Thomas, founder and values officer of climate justice nonprofit Intersectional Environmentalist.
Taking a more hopeful, optimistic approach can improve engagement, she said, through what she calls radical imagination. Her concept of radical imagination involves picturing what a world that's regenerative and equitable for all people and the planet looks like, which can inspire others that there's hope.
"We're the bearers of our own solutions," she said. "If we collectively can radically imagine new futures, we have a better shot of protecting both our planet and our people at the same time."
3) Collaborate to Go Further
The last main takeaway from Expo West was that to solve big problems like climate change while building strong businesses, natural product brands and companies overall can often go further by working together.

For example, Ben & Jerry's partners with Tony's Chocolonely to use different parts of cocoa beans, said Cheryl Pinto, global head of values led sourcing at Ben & Jerry's. That allows the brands to share costs like paying premiums to farmers and polygon mapping to protect against deforestation, she added.

Another example of brand collaboration can be seen with The Almond Project, "a multi-year, farmer-led partnership created to identify more sustainable farming methods and pave the way towards a more resilient future for almonds," the project explains.

Some of the founding partners of the project might be competitors in some ways, but they can also cooperate in ways that lift each other up.
"To replicate partnerships like these, we need to put our egos aside," said Rebecca Gildiner, director of sustainability at Daily Harvest, an Almond Project founding partner. "We can't solve these problems on our own. [More than one brand] is buying almonds, and we all need them to be sustainable."
Collaboration can also include working with complementary, mission-aligned brands to create new products and buzz. For instance, Miyoko's Creamery partnered with King Arthur Baking Company and Abbot's Butcher to create a vegan pizza recipe.
"We should work together to advance this movement, and with that more consumers will be interested," said Emma Stein, sustainability manager at Miyoko's.
Disclosure: Our parent company, JournoContent LLC, has clients involved in sustainability-related areas, among others, including potentially companies mentioned or affiliated with the ones in this article. The owner of Carbon Neutral Copy, Jacob (Jake) Safane, has investments in sustainability-related companies, among others.
As such, conflicts of interest related to these and other investments/business relationships, even if unintended, may exist at times. Please email info@carbonneutralcopy.com if you'd like further clarification on any issues.